As the self-described front page of the internet, Redditors constantly search for new and impactful ways to share their opinions online. With online polls becoming increasingly popular across social media, Redditors have also become interested in polling options. 
Anyone with a Reddit account can create a poll with up to six answers to choose from. Polls are classified as a post type and can be created within a subreddit just like any other post type. Your poll is fully customizable, which means you get to choose the exact phrasing of your question and each of your answer options.
Are Reddit polls anonymous? Yes, Reddit polls are anonymous. All voting on Reddit polls is done anonymously, so nobody has access to any voter's username or information during or after voting.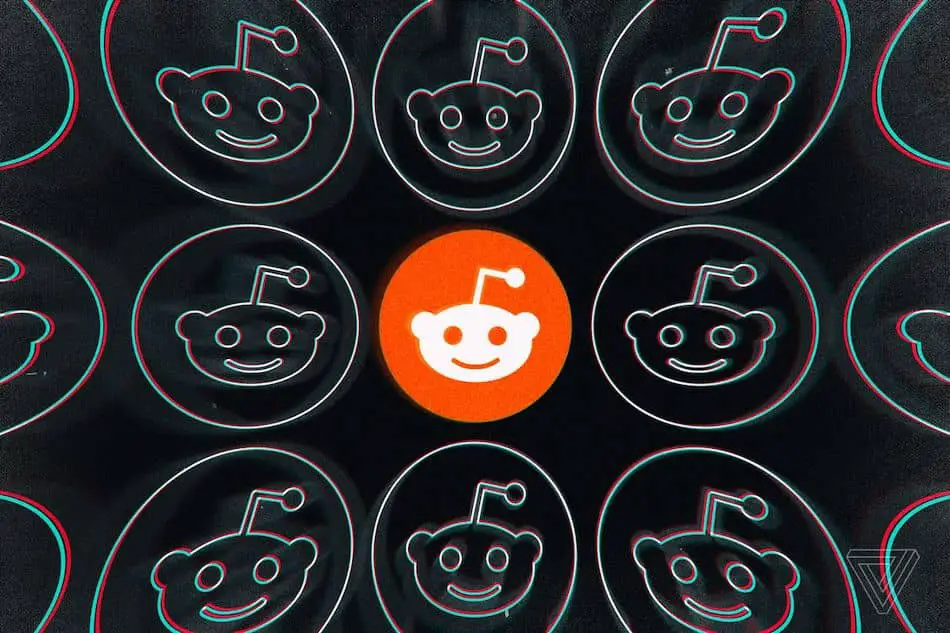 Whether you are new to Reddit or a frequent user, polls can help you engage with your favorite online community in a new and exciting way.
Even though setting up your poll can be done in a few easy steps, it's important to have all of the information about the poll feature before you start setting your poll up. This will ensure that you get what you want out of your post and that your poll does not get taken down by moderators.
A lot of people ask, can I post a survey on Reddit? Yes, you can post surveys on Reddit. Some of the top posts on Reddit are surveys. These include the most popular AskReddit threads, such as "What is your favorite animal?" and "What's your go-to karaoke song?" Posting a survey to an appropriate subreddit can generate some engaging discussion.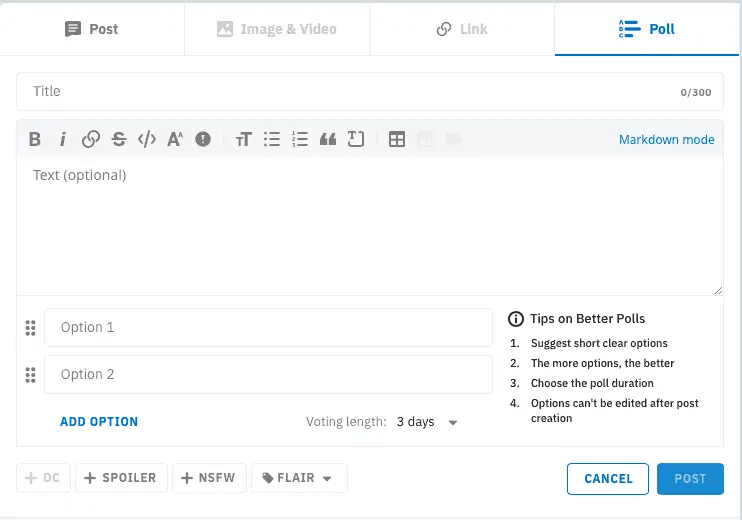 What you should know before creating your poll
The last thing you want to do is spend your time creating a poll that doesn't have the features you want or a poll that gets taken down for not adhering to the rules. To get the most out of your poll, make sure that you know everything that is and is not included in the Reddit poll feature. Here are a few things to keep in mind before you decided to create your very first poll:
Polls are available in almost all subreddits. However, they are not available in any subreddits that are classified as "text-only"
Always follow the posting rules of the subreddit. Each subreddit has specific rules that you should brush up on before creating your poll. These are found on the right-hand side of the subreddit page. If the posting rules are ignored, your post will be taken down and no one will get to participate in your poll. 
Once your poll is posted, you won't be able to edit it, so make sure everything looks just right before hitting that post button.
Any Reddit user can participate in a poll by voting or commenting. This means users can ask a clarifying question or start a discussion in the comments, so be sure to read and respond to them to keep the conversation going.
Polls can only stay up for a maximum of 7 days, so keep in mind that you cannot collect answers over a long period of time
To keep the results impartial, poll results are hidden from the voters until after they have voted
Each voter will only be able to vote one time
You'll be able to see your results when your poll closes. If you want to see results sooner, you can schedule your poll to run for a shorter time
All voting is done anonymously, so you won't have access to any voter's username or information during or after voting
It's a great idea to search Reddit before you begin. If you've got a very specific question, chances are no one has asked it yet, but if your question is more general someone may have already created a poll for it.
Reddit is always updating and adding to its features, so if you feel that there is an important element missing from the poll feature, you can reach out to Reddit with your feedback. Issues you have now may be updated in the future, so be sure to check back on the poll feature occasionally to see what's new.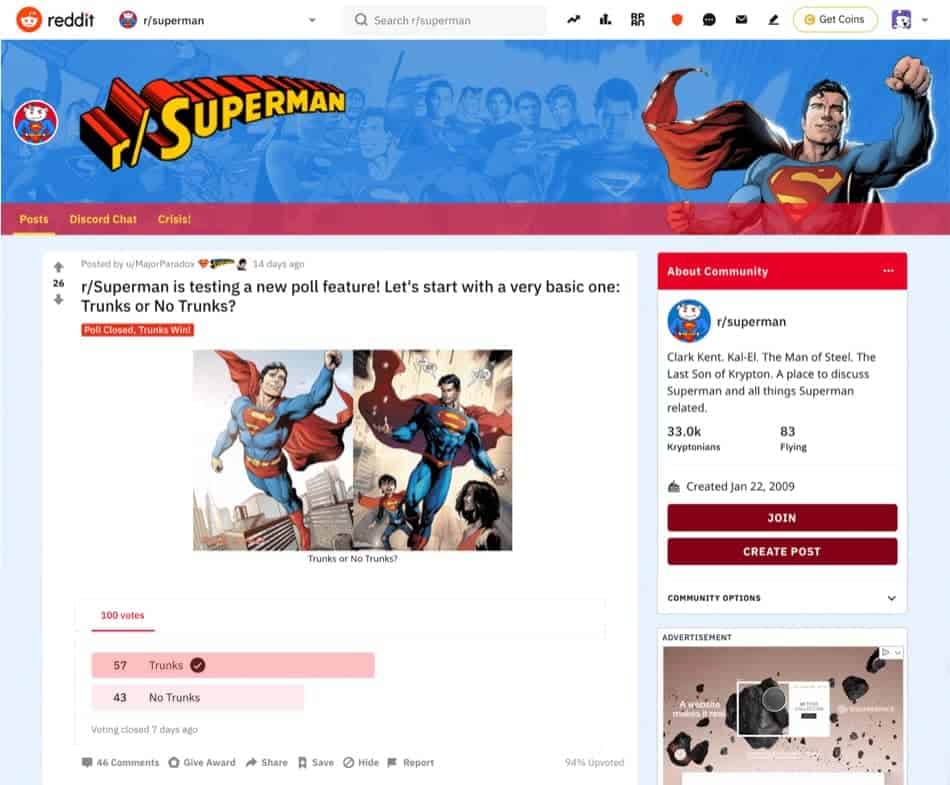 How To Make A Poll On Reddit
Even if you've never posted on Reddit before, you can create your first Reddit poll in just a few minutes. If you are a new user, you'll need to create your account before getting started.  Before you get started you should have an idea of which subreddit you would like to poll and the question you would like to ask. Gather up any images, links, or videos that you'll need to attach to your post, and then you should be ready to get started. Creating your first poll can be done in a couple of easy steps:
Log in
Step 1: Log in to your Reddit account
Choose A Subreddit
Step 2: Choose the subreddit you'd like to post your poll in. If you're interested in posting a general poll that doesn't necessarily fit in a specific subreddit, you can head to the poll subreddit to post it there- Remember to double-check the subreddit rules on the right-hand side of the page before creating your poll. 
Create A Poll
Step 3: Select "Create Post" at the top of your subreddit feed. This will automatically open up the post creation tool for you. 
Step 4: You'll see several different tabs on your post creation tool. Select Polls from the available tab options.
Add A Title
Step 5: Give your Poll a title. You'll have three hundred characters to create your title. Try to pick a title that is clear so that Redditors will know exactly what they are voting on
Fill Out The Other Fields
Step 6: In the text box include any additional text and any images, links, videos, or tables that your voters might need to make their decision. Does your poll contain a tv, book, or movie spoiler? Make sure to mark as "Spoiler" during this phase to protect your fellow Redditors from spoilers.
Step 7: Fill in your answer options. Make sure your answer choices are short and easy to understand. The minimum number of answer options is two and the maximum is six. If you plan on including an "all of the above option" make sure to reserve your sixth answer slot for that.
Choose A Duration
Step 8: Choose the poll duration. Remember that you can choose between one and seven days and you will receive the results at the end. If you'd like a sneak peek at the results, you can vote on the poll yourself, but you'll only be able to vote once. 
Publish!
Step 9: Post your poll and relax. Although you may not be able to see specific results yet, you can keep up with the total number of voters and the comments section while you are waiting on the final results to come in.
To find out more about marketing on Reddit, don't forget to check out our Reddit Resources.
Uses for Reddit Polls
Whether you're interested in Reddit for social, creative, or business purposes, you'll find that there are lots of different ways that you can use Reddit polls to connect with your online community. Since polls are anonymous and only require the click of a button to vote, it's incredibly easy for Redditors to participate and share their opinions. Polls are a quick and simple way to engage with other Reddit users, provide entertainment,  help make a decision, or get feedback on your business.
Social Uses for Reddit Polls: 
Asking questions within a niche subreddit. This helps you connect with others who share your interests
Connect with new friends in the comments. If you are posting in a specific subreddit, you'll probably find plenty of like-minded people in the comment section below your poll.
Not all polls are serious, so you can choose to entertain people and make them laugh with a goofy or sarcastic poll
Ask other Reddit users to help you solve a problem you've been thinking about. A poll can help you decide whether or not to see a new movie, try a dish from a restaurant, use a new brand, etc. 
Creative Uses for Reddit Polls: 
Run your next big idea by your favorite creative subreddit. Take a poll about your next creative endeavor (novel, painting, drawing, illustration, embroidery, etc.) and see if there's any interest in the topic or subject matter. You may even find additional creative ideas in the comments
Get creative input on a current project. Let other Redditors help you decide on the next steps, color choices, and more for your work in progress. Make sure to include clear pictures of the work. 
Business Uses for Reddit Polls: 
Although Reddit has many rules that limit selling your products on their platform, you can use a poll to conduct quick research questions
Let your online community vote on packaging colors, product design, logos, etc. to encourage engagement
These are just a few of the limitless uses for Polls on Reddit. The poll feature is designed to give users more opportunities and methods to connect, discuss, and share online. Now that you know what's included in the poll features, what you want from your poll, how to create your poll and some possible uses for polls, you are ready to try it out. 
Reddit Resources
The Complete List of Subreddits That You Can Advertise On
Reddit Polls
How to Get on The Front Page of Reddit
How to Block Subreddits?
What Is The Reddit Logo Called?
What Age Group Uses Reddit?
How Do I Promote My Product On Reddit?
Guide To Getting Backlinks From Reddit
Reddit Ads vs Facebook Ads
How To Advertise On Reddit For Free
Reddit Ad Examples
Reddit Ads API – Detailed Set Up & Usage Guide